Huts Gallery
Available as Framed Prints, Photos, Wall Art and Gift Items
Choose from 2 pictures in our Huts collection for your Wall Art or Photo Gift. Popular choices include Framed Prints, Canvas Prints, Posters and Jigsaw Puzzles. All professionally made for quick delivery.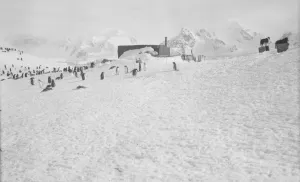 Featured Print
Waterboat Point, Paradise Bay
Photographer: Thomas Wyatt Bagshawe (1901-1976). Expedition: British Expedition to Graham Land 1920-22. Date: 1921. Penguins stand on a snow-covered slope near to the snow-covered wooden base hut. Snow-covered mountains in the background.
© Scott Polar Research Institute, University of Cambridge
Antarctica, Dogs, Huts, Mountains, Penguins, Snow